Welcome to the third edition of our "Pioneers of Home Infusion" interview series, where we delve into the lives and professions of those who have significantly influenced the rapidly growing field of home infusion. Today, we have the privilege of featuring Dr. Tony Powers, an eminent figure in the home infusion industry who recently retired after 40 years of practice. Dr. Powers commenced his career in community pharmacy in 1980, and in 1988, he co-founded Medical Alternatives, which is now affiliated with the Baptist Memorial Healthcare System in Tennessee. He earned a BS in Pharmacy in 1980 and a PharmD in 1982, both from the University of Tennessee. Our conversation with him about his experiences in the industry and his affiliation with the National Home Infusion Association (NHIA) was truly an honor.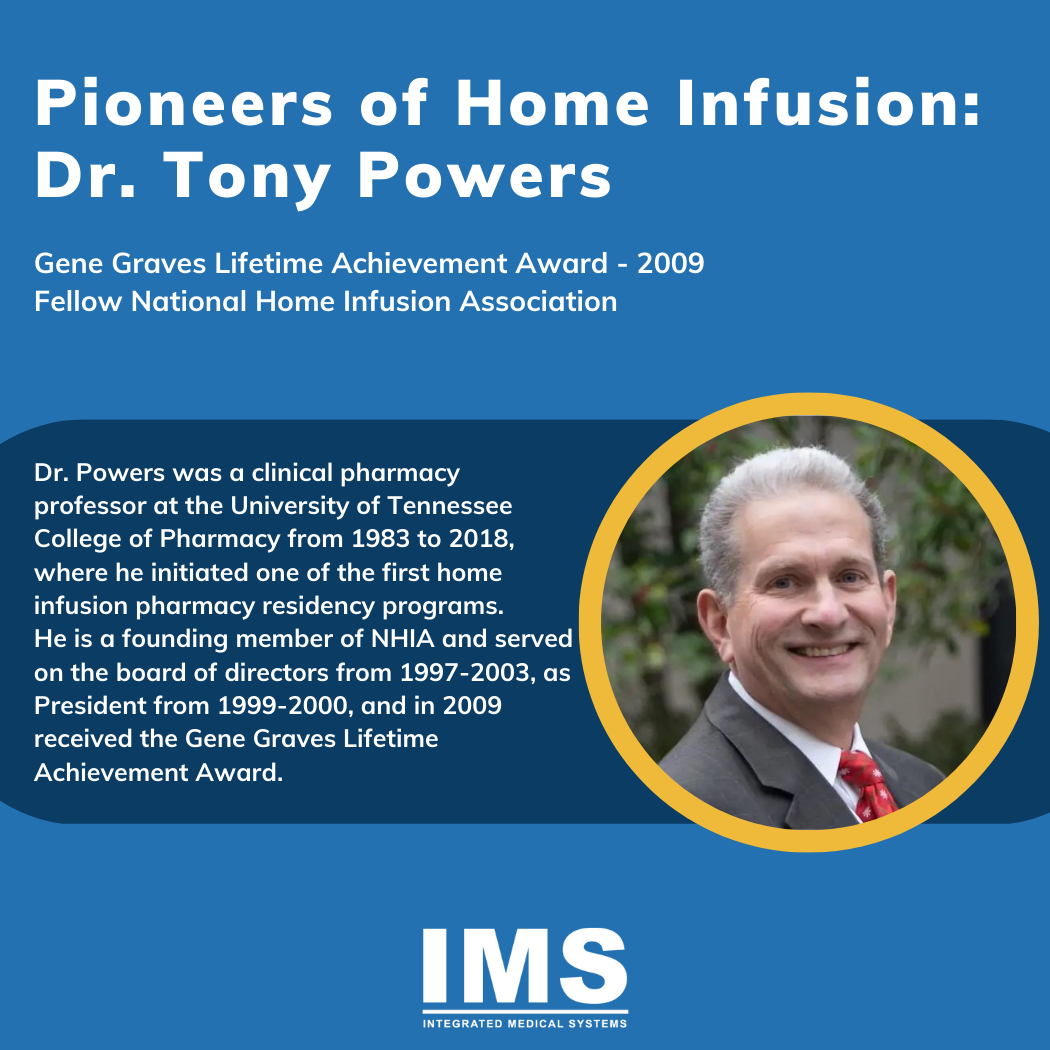 When and how did you first get into the home and alternate site infusion profession?
I began working in the home and alternate site infusion profession back in 1984 when I was working in clinical areas for nutrition support. I was running nutrition support teams in several hospitals and had experience in infectious diseases and oncology. In 1983, when the balanced budget amendment was released, hospitals went to DRG prospective payment, and my colleagues and I began to talk about the concept of what was going to happen in hospitals. We knew people would want to be sent home, and we needed to understand how to do this safely and effectively. Around the same time, companies such as Abbott, and Baxter saw the need for this service and reached out to people like me who were involved in this area. I began working as a consultant with Travacare training pharmacists on how to manage various patients in the home setting. In 1988 I opened Medical Alternatives and eventually joined a healthcare system.
What drives your dedication to the profession? What have been your most memorable experiences and contributions to the profession?
As an individual who has been involved in the home infusion profession from the beginning, I am driven by the dedication and passion of the professionals in this field who are committed to providing the best care possible to our patients. I have always been blessed with the ability to identify and recruit talented professionals into the field. Being a part of this community has felt like being part of a family, where everyone is focused on helping patients return to their normal lives as quickly as possible.
One of my most memorable experiences was serving as the president and chairman of the board during the early days of the profession. During this time, I was able to identify and bring in talented clinical pharmacists and nurses who were interested in home infusion but didn't know where to start. Seeing these individuals grow and contribute to the profession has been incredibly rewarding. I also helped set up many of the committees and subcommittees that are still in place today, and it makes me proud to see the impact that they have had on the profession.
Overall, being a part of the home infusion profession has been one of the most fulfilling experiences of my life, second only to my own practice. Watching the profession grow and evolve, and seeing new professionals come in and make their mark, has been truly inspiring.
Are you noticing history repeating itself as of late, where they're taking reimbursement dollars, and really minimizing them for home infusion, and even home therapy?
Yes, the challenge of recognizing the service that goes along with pharmacy products and not just being paid as a commodity business has always been present, and it continues to be a problem. There have been some breakthroughs in the industry, such as the development of S codes for per diem reimbursement, but there is still a struggle to get Medicare to recognize the clinical services being provided. The misalignment of incentives is a key issue in healthcare, and it's difficult for the industry to function correctly when incentives are not aligned. Despite the challenges, there are still various reimbursement models out there, and it's important to continue fighting for recognition of the clinical services provided in home infusion and home therapy.
What advice do you have for younger/newer people in home infusion to be successful given the current state of the industry?
My advice for younger/newer people in home infusion would be to diversify their services and consider the different models available for infusion pharmacy. It's important to stay up to date with state laws and requirements, as they vary between states. In some states, it may be beneficial to hire your own nurses and control the patient care. The future of home infusion involves the need for personal settings with nurses monitoring patients for multiple hours, which may not be feasible with home health agency nurses. The industry is constantly changing, and it's important to understand the costs and incentives of each model. All players need to come together and understand each other's intentions to succeed in this industry.
What does it mean to you being a part of the Gene Graves Lifetime Achievement Award? How does that make you feel?
Being a part of the Gene Graves Lifetime Achievement Award is a great honor to me. Gene Graves was a trailblazer in the profession, and his dedication and risk-taking are admirable. It is a privilege to be associated with such names and to receive recognition for my work in an organization that represents a lot of people across the country. It's also something that I can proudly share with my grandchildren and explain the importance of dedication and hard work. Overall, I feel grateful and honored to receive this award.
What is the first word or phrase that comes to mind when you think about NHIA?
The first word that comes to mind when I think about NHIA is dedication, followed closely by perseverance. The organization is committed to serving patients and has demonstrated an unwavering determination to fight for the industry's survival, even in the face of significant challenges. Their efforts have helped preserve the home infusion profession as we know it today.
NHIA has always done a great job of providing ongoing educational and professional opportunities, how has this helped home infusion professionals in their careers?
The ongoing educational and professional opportunities provided by NHIA have been invaluable to me throughout my career. The certification program was a great way to teach students and get them involved in home infusion, and the networking has been critical. The development of billing codes and other operational support has helped our business stay alive. I'm pleased to see NHIA striking a balance between leadership, operational, and clinical tracks, which benefits organizations and patients alike. It's rewarding to see the positive impact NHIA is having on the industry.
Is there anything you would like to share with other home infusion professionals?
Encouraging residents to participate in NHIA presentations and posters is a great way to mentor and guide young professionals in the field. As I get older and I see these wide-eyed young people coming into the profession, we need to dedicate ourselves to try to be there for them and mentor them and give them guidance. That's really important to me.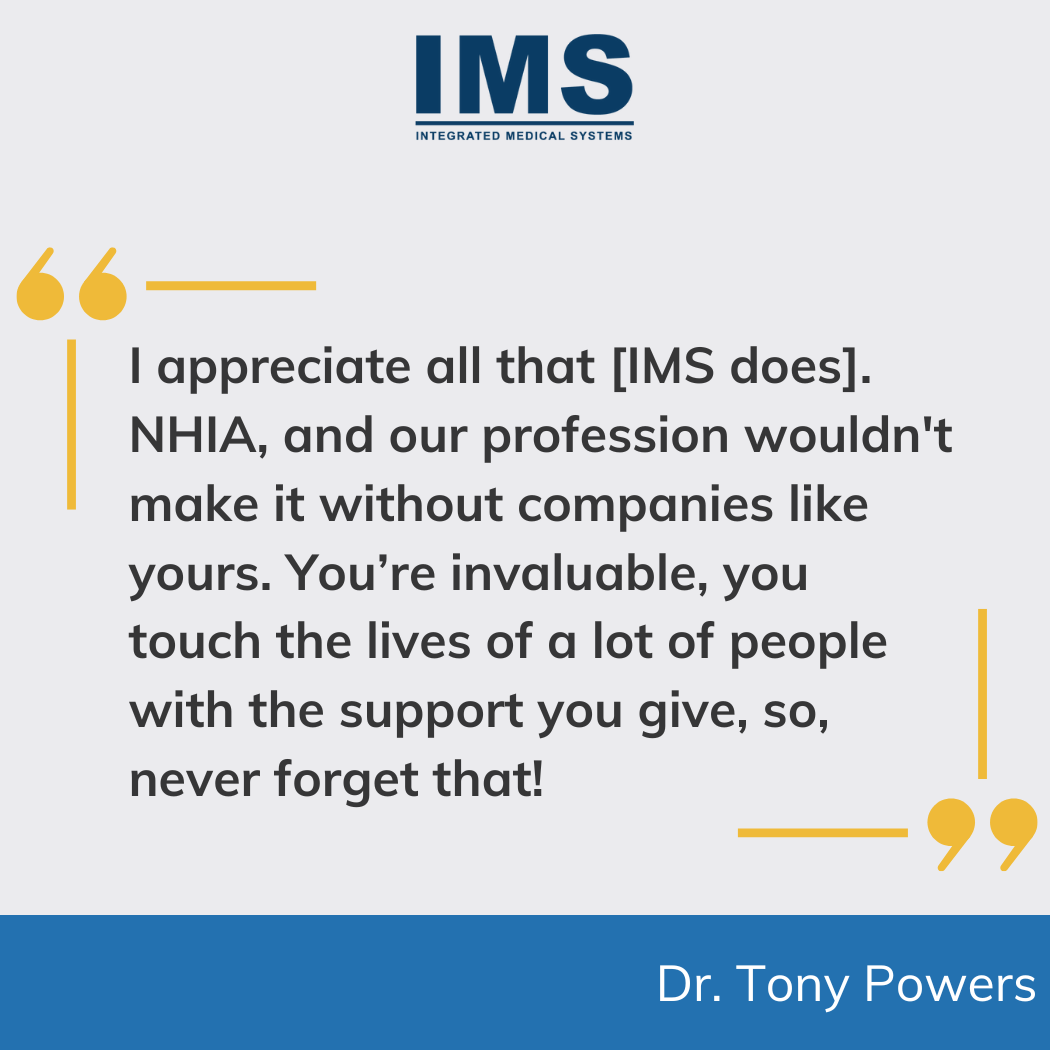 Where is your favorite vacation spot?
I like to get out and hike and go to some of our state parks. My wife is a beach person, so we end up at the beach every so often.
If you were not going into the healthcare field, what would you be doing?
I'd probably be pastoring a church or I would be teaching.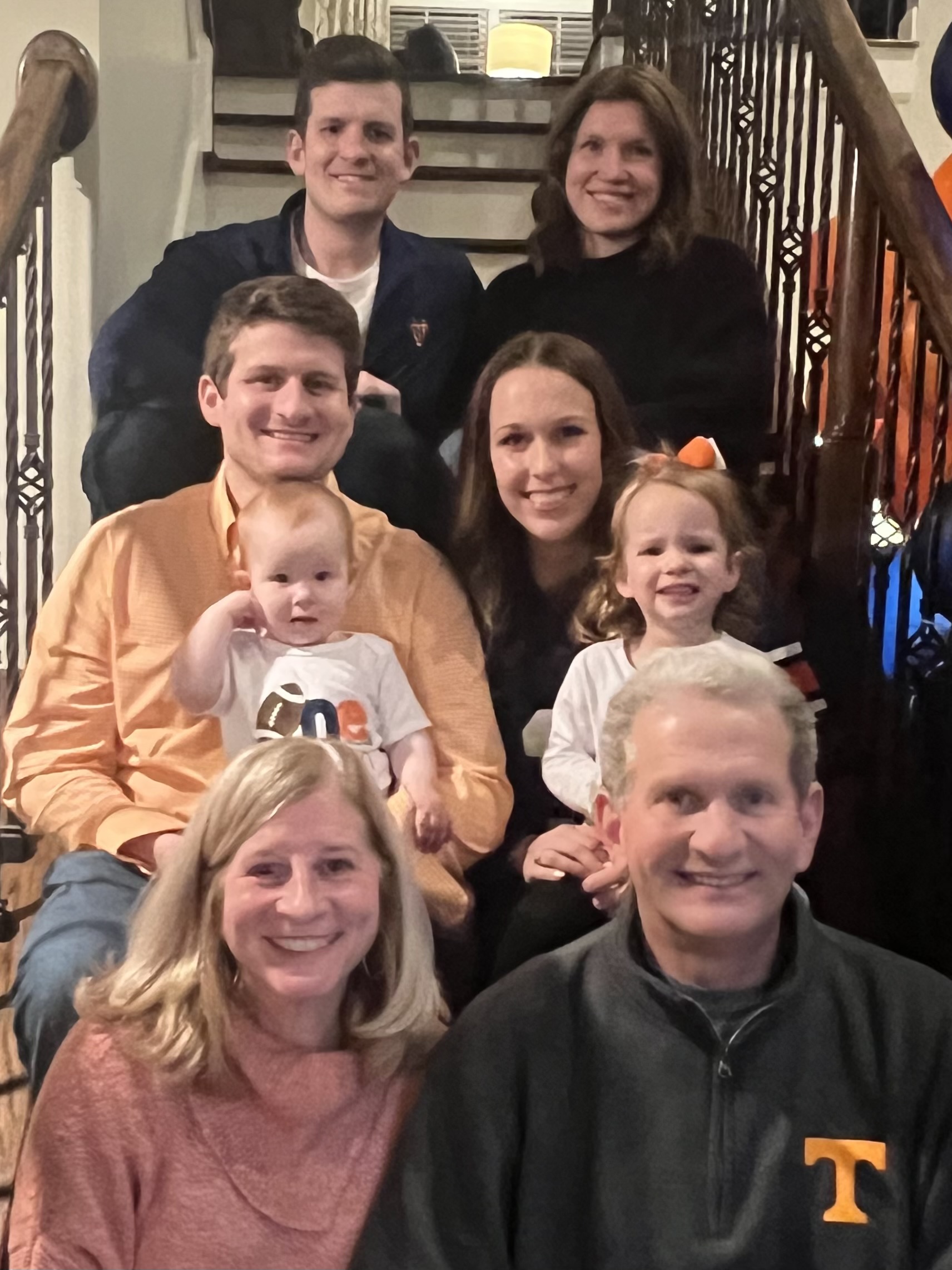 Biography
Dr. Powers was a clinical pharmacy professor at the University of Tennessee College of Pharmacy from 1983 to 2018, where he initiated one of the first home infusion pharmacy residency programs. He worked as a surveyor for The Joint Commission (TJC) from 1993-2002. With extensive knowledge and experience with healthcare system affiliated home infusion pharmacies; he facilitates leadership development, market specific strategic planning, operational assessments, performance measure implementation including clinical, operational, and customer satisfaction indicators, marketing and sales strategies, regulatory and accreditation compliance and has conducted due diligence as a component of merger and acquisitions.
Currently Dr. Powers is semi-retired, teaching part time a Lipscomb University College of Pharmacy in the areas of home infusion, management, and leadership.
Dr. Powers is a founding member of NHIA, guiding its growth from an interest group of the National Community Pharmacists Association (NCPA) into an independent association. He served on the board of directors from 1997-2003, as President from 1999-2000, and in 2009 received the Gene Graves Lifetime Achievement Award. He continues to be active with NHIA as a founding member of the National Home Infusion Foundation (NHIF) board.